In 2022, we eliminated over $15 million of client debt!
(This does not include debt eliminated by bankruptcy filings)
California Private Student Loan Debt Attorney
Private Student Loan Debt Resolution Requires Experienced Counsel
If you've ever looked up, "student loan lawyers near me" at Fitzgerald & Campbell, APLC we can assist you with your Private Student Loans on a No Settlement= No Fee basis (pre-litigation cases only). These types of loans require experienced counsel and there are no easy solutions. Make sure to contact our expert student debt attorneys today for the help you need.
***We do not currently assist with Federal Student Loans because the state of the law is constantly changing and so much is unknown about what the government will do tomorrow that we don't believe we can give competent advice that will remain valid. When this changes we will again assist with Federal student loans.
Hire A Private Student Loan Debt Attorney
But there ARE solutions for Private Student Loans! Great solutions! Do not buy into the fear the lenders are selling. Nor should you buy into the oversimplification being sold by "student loan assistance companies". You can't simply fill out a form and make it all better.
Get the clarity, confidence, and control you need by talking to experienced student debt lawyers in this type of complex debt.
Featured Case Results:
December 06, 2021: A lawsuit in the amount of $38,358.00 was DISMISSED!! Saving our client 100% of the debt! (National Collegiate Student Loan Trust – Law Offices of Patenaude & Felix, APLC vs Client. Case No. RIC19047XX- Riverside County)
November 29, 2021: $23,881.00 Navient Solutions, LLC was settled $9,000.00. Saving our client 62%!
October 05, 2021: A lawsuit in the amount of $27,300.00 was DISMISSED!! Saving our client 100% of the debt! (National Collegiate Student Loan Trust – Law Offices of Patenaude & Felix, A.P.C. vs Client. Case No. 19VECV011XX- Los Angeles County)
TRIAL VERDICT – EDUCAP vs. Client. EDUCAP hired Gaba Law Firm to sue our client on a Student Loan and demanded 100% of the total amount due. The case went to trial and attorney William Campbell defended the case. The judge ruled in favor of the defendant/student. Student/Client pays $0.00! (EDUCAP v. Client Monterey County Superior Court case # 16CV0021XX)
A $260,076.83 Navient account settled for $67,000.00
April 8, 2021: A lawsuit in the amount of $166,617.02 was dismissed entirely! Saving our client 100% of the debt! (Shenandoah Funding Trust vs Client. Case No. 19BBCV003XX – Los Angeles County)
Client was sued by National Collegiate Student Loan Trust for $43,466.96. Settled the case for $15,880.00 (National Collegiate Student Loan Trust 2007-4 V. Client, Case#CIVDS15019XX)
National Collegiate Student Loan Trust sued our client in Marin County Superior Court for $44,776.08 and CASE WAS DISMISSED for $0 (Marin County Superior Court case # 15014XX)
Fitzgerald & Campbell, APLC Saves Hundreds of Thousands on Private Student Loan
by Sam Miller
August 21, 2018
Fitzgerald & Campbell, APLC negotiated a private student loan debt totaling nearly $200,000.00 for a mere $25,100.00 this past week, saving their client over 87% of the amount due.
The debt originated with Navient Solutions, LLC, and had been placed into collections with National Enterprise Systems (commonly known as NES). The alleged amount stood at $196,465.11 at the time of settlement.
The letter from NES confirming the terms of the settlement is displayed below. Fitzgerald & Campbell, APLC are proud to continue their pattern of excellent service and phenomenal deals for their clients, and this is a shining example.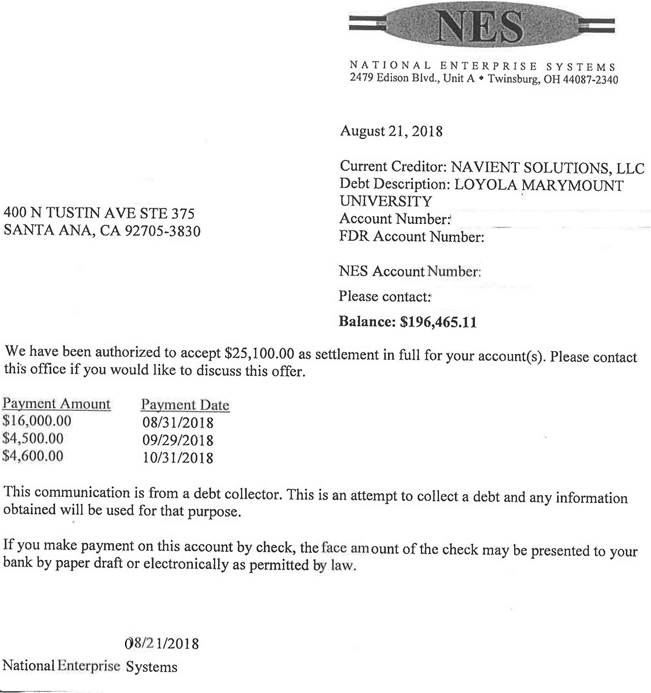 DISCLAIMER: Every case is different. Results depend on the unique law and facts of each case. Fitzgerald & Campbell, APLC makes no guarantees or warranties about the outcome of any particular matter or case. The Fitzgerald & Campbell, APLC website, or the information contained within the website, should be construed as ATTORNEY ADVERTISING.
How to Resolve your Private Student Loans
Step 1: Get off the payment treadmill to nowhere!
*View this Huffington Post article that quotes Greg Fitzgerald's Top 10 Reasons You Should Stop Paying Your Unaffordable Private Student Loans.
If you have not already done so, you should seriously consider defaulting on these loans. Although there are many factors involved (such as the loan amount) and you should speak to an experienced student loan lawyer first.
We often recommend clients default on these loans when:
You can't afford to pay them
You have no idea when they will be paid off. Would you buy a car or even a house when you have no idea when the payments would end? Of course not. The same goes for private student loans.
Step 2: Understand Unsecured Debt
Understand that Private student loans are unsecured debt and are no different than your credit card (except for how they are treated in bankruptcy). Given that bankruptcy is usually not available to you on these debts, strategic default is the only way to get out of debt in your lifetime on most of these loans.
As with any unsecured debt, there are only 3 things they can do to you when you default on a private student loan:
Call and write to you, demanding payment (having a lawyer as your representative will stop this)
Derogatory report on your credit
File a lawsuit against you- look at our case results and you will find that the only thing worse than a lawsuit is continuing to pay the full amount and never seeing the balance go down. Also, not all clients get sued!
Step 3: Beware Student Loan Assistance Companies
Below is a list of some well-known student loan assistance companies that have been accused of several shady practices as published by NerdWallet (read the original article here).
Several of the companies listed below have been charged with various business violations including:
Illegal practices by a state or federal agency or found to have engaged in illegal practices by a judge;
Being managed by an individual who operates or has operated another business accused of illegal practices by a government agency or found to have engaged in illegal practices by a judge;
Being operated by someone who has incurred significant debts or a criminal conviction;
The business has been hit with liens for unpaid taxes; or
The business is Rated D or F by the Better Business Bureau.
If you're working with one of the companies below, CALL US IMMEDIATELY! Let us help you manage your debt and GET YOUR LIFE BACK!!
STUDENT LOAN ASSISTANCE COMPANY WATCH LIST
A list of all companies on the watch list can be found here.
Academic Debt Alliance
Action Administrative Services
Advantage Student Loan Consolidation
Advantage Student Loans
Affordable Life Plans
Aiding Student Relief
Allied Doc Prep
AlphaOne Student
Amazing Marketing
American Student Aid
American Student Loan Consolidators
ASF Assistance
Benchmark Processing Inc.
Bright Futures Financial Corp.
College Education Services
College Financial Advisory
Consumer Assistance Project
Consumer Financial Resources
Consumer Protection Counsel, P.A
DFL International
Docs Done For You Inc.
Document Aid Relief
Done With Loans
Equitable Acceptance Corporation
First American Student Aid
First American Tax
First American Tax Defense
Freedom Student and Tax Defense
Global Financial Support Inc.
Good EBusiness
Grads1st
GreenStudent
Help Assist Me Default Resolution Services
Interactiv Education
Lexington Doc Prep
Liberty Tax and Student Loan Defense
Life Cycle Student Loan Relief
Merrill & Hart
Miller Student Loan Consulting
Nation Wide Consumer Debt Relief Inc.
National Secure Processing
National Student Aid Care
National Student Aid Center
National Student Loan Help
National Student Loan Rescue
National Student Loan Solutions
National Student Loans
Nationwide Student Aid
Navloan
Performance Debt Relief
Performance Settlement
Post Grad Aid
Private School Loans Relief
Reliant Account Management
Select Document Preparation Inc.
Select Student Loan
Select Student Loan Help
SL Programs
SLRS
Strategic Debt Solutions
Strategic Doc Prep Solutions
Strategic Student Solutions
Student Advocates
Student Consulting Group Inc.
Student Debt Center
Student Debt Relief Group
Student Debt Resolutions Inc.
Student Debt Solutions
Student Financial Resource Center
Student Legal Services
Student Loan Consultants of America
Student Loan Counsel
Student Loan Educators
Student Loan Forgiveness Center
Student Loan Group
Student Loan Managers
Student Loan Processing.US
Student Loan Repairman Inc.
Student Loan Resolution Center
Student Loan Service
Student Loan Service Managers
Student Loan Services
Student Loan Servicing Center
Student Loans Processing Corp.
Student Reform Associates
Student Relief Center
Student Zoom LLC
StudentLoan911.org
Sunshine Document Preparation Inc.
The Center for Student Debt Reform
The Student Loan Help Center
The Student Loan Project
U.S. Student Loan Services Inc.
United Advisors Group
United Student Loan Division
University of One
US Direct Student Loan Services
US Financial Freedom Center
Consult A Student Loan Debt Attorney in California
If you're looking for an experienced California student loan debt lawyer, consider scheduling a consultation with the Fitzgerald & Campbell. We're able to offer your the legal expertise to take appropriate steps in defaulting on your loans or enacting another course of action. Student loans put immeasurable pressure on a person, and our team of student loan attorneys can help.
We Fight for Your Victory Over Debt
Reviews
For us, every case is personal. We encourage our clients to share their stories.
FIND OUT INSTANTLY THE ANSWER TO THE 3 MOST FREQUENTLY ASKED QUESTIONS ABOUT DEBT SETTLEMENT:
How much Money is needed for a Successful Debt Settlement Plan? In total? Per month?
How Long does a Debt Settlement Plan take?
How much Can I Really Save?
Fitzgerald & Campbell Is Here To Help Get Your Estimate Now