Entering college is one of the most exciting and fulfilling times one can experience, and considered a rite of passage by many. This is the beginning of the rest of your life as you decide what interests you, find out what you have an aptitude for, and work toward gaining a skillset that hopefully will offer a foundation for a career path you can enjoy for many years to come.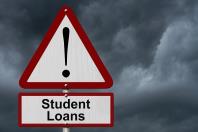 Finances must always rear their ugly head though, and before you can start attending class and enjoying all that intellectual stimulation, you must first satisfy the tuition office. This often begins with a student loan of some sort, either federal or private. You can see that there is a list of pros and cons for each, and in your case you may have decided to take out a private loan. Your parents may have even co-signed. Depending on the type of loan, you may have already started paying it back while you were still in school. And even while the new job may be going well and real life is afoot quite successfully, you may discover that the amount of money coming in is not matching what's going out. You may start targeting that hefty monthly student loan payment as quite a burden too.
When the time comes that you realize you absolutely need a change and some major reorganization to the finances, how should you navigate that private student loan? This is where the benefits generally do not weigh in favor when compared to federal student loans. It can be a slippery slope trying to get out of these payments (most likely not going to happen) or even lowering them (very tricky business). Depending on who your private student loan belongs to by the time you are looking at trying to renegotiate or defer payments, you may luck into the rare instance where you are able to work out some sort of a deal. Keep in mind too, that if the art of negotiation is about to come into play, you should contact a law firm experienced in such matters for consumers, such as Fitzgerald & Campbell, APLC.
While we do recommend that you work diligently not to default on those federal student loans, the private ones can be a different matter altogether. And if fact, if you are in a serious financial bind and the student loan is the culprit, keep in mind that defaulting on the private student loan may actually be your best option. This is an unsecured debt that you must look at closely when weighing out all your options, and thinking about what the future of your finances holds if you don't take action. If you default 'strategically,' you most likely must accept damage to your credit score, along with the flurry of demands for payments, and the possibility of a process server knocking on your door to serve you with a lawsuit. If this is something you are considering and need to explore your options further, contact us at Fitzgerald & Campbell, APLC. Our attorneys have decades of experience in serving clients with similar financial situations, as well as navigating student loan debt. Let us review your case and discuss what would work best for you. We are here to help!
Call us today for a free consultation at (844) 431-3851, or email us at info@debtorprotectors.com.