As the debts begin piling up, finally into a mountain so large that you are forced to take serious action, bankruptcy may begin to seem like the best option. Whether you are hoping to obtain almost total debt relief in a Chapter 7 bankruptcy or hope to reorganize your finances and begin making monthly payments to creditors in a Chapter 13, it's best to contact an experienced law firm such as Fitzgerald & Campbell, APLC first, exploring the options that will work best in your case.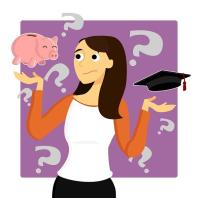 If you do begin entering the process of filing for bankruptcy, questions begin to arise immediately as to which debts will be discharged. The whole point is to get rid of as many of these burdens as possible, and whittle your monthly bills into something you can afford, paving a new path and a new financial foundation for the future. No matter the bankruptcy chapter you choose, however, it's generally unlikely your student loans will be considered dischargeable.
You will, at the outset of filing for bankruptcy, need to make a list of all your debts and creditors. While it will be a fact that the student loan is part of your debt load, chances are this is one of those non-dischargeable debts (lumped in with others such as taxes, alimony, child support, and more) that yes, you must continue to pay—despite all the reasons you would like to discontinue doing so. Generally, student loans are only discharged in bankruptcy when 'undue hardship' can be proved, and if you research this further, you will find that the cases of hardship must be extreme. It is not impossible to gain a discharge, but an authentic need must be there and you must be able to back up your claim solidly.
The bottom line is that you may be in bankruptcy, but most likely nothing is going to change regarding that student loan unless you take a different route. Depending on whether you have a federal or private student loan, you may qualify for a range of different options, from deferment to a reorganization of your payment plan. In some cases, default may become the best, strategic option. Contact us at Fitzgerald & Campbell, APLC before making a decision. With decades of experience in helping clients navigate areas such as student loans and other debt issues, our attorneys can sit down with you and review your case. We are here to help!
Call us today for a free consultation at (844) 431-3851, or email us at info@debtorprotectors.com.