One of the most important decisions you will make during your bankruptcy case is deciding which attorney will represent you. There are thousands of lawyers out there willing to take your case, but which one is the "right" one for you?
Below Are a Few Questions You Should Consider Asking a Lawyer You Are Considering Hiring:
Is bankruptcy the best debt relief option for me? You should never be pressured or pushed into filing a Chapter 7 or Chapter 13 case. Your attorney should be willing to educate you regarding all of your debt relief options and help you weigh the pros and cons of each option. You don't want to work with somebody who is only interested in the fee you are going to pay them. Choose a lawyer that truly has your best interests at heart and who will be honest with you.
What is your experience handling cases similar to mine? Do not assume that an attorney has handled cases similar to yours. A seasoned lawyer will be able to explain what you can expect in your filing and help you feel comfortable with the process. Don't be afraid to find out what percentage of the lawyer's practice is focused on bankruptcy. You don't want to work with somebody who "dabbles" in this area of the law.
How will bankruptcy impact me? It is important to educate yourself on the pros and cons of filing for bankruptcy. A good attorney will be honest in explaining the advantages and disadvantages.
How much will my filing cost me? If your bankruptcy lawyer charges a flat fee to handle your case, make sure you understand which services are (and which are not) covered in the flat fee. Make sure you also know how much you will pay in court fees and other administrative expenses.
Choosing a Bankruptcy Lawyer Can Be One of the Most Important Decisions You Make For Your Financial Future.
Don't be afraid to ask questions and get to know your attorney. Follow your gut instinct and choose the lawyer you trust and feel the most comfortable with.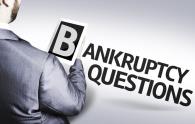 If you are considering filing a bankruptcy and you need help determining which type of filing would be best for you, contact Fitzgerald Campbell to schedule an appointment. We do not offer just one debt relief option, we don't push you in one direction. If bankruptcy right for you, we will tell you. If it's not, we will tell you that. If bankruptcy is your get-out-of-debt plan, it needs to be done right. It needs to be in the hands of experienced lawyers who have been there before. Contact us today!