Financial circumstances change all the time, and it is not unusual for homeowners to fall behind on a deed of trust or mortgage. Whether it is a job loss or unexpected bills, sometimes the money to make a mortgage payment just isn't there.
Luckily, foreclosure doesn't happen immediately after a single missed payment. Lenders are required to give homeowners a grace period of at least 10-15 days to catch up on a single missed payment. After two missed payments, homeowners will begin receiving phone calls and letters about the overdue mortgage. If you cannot make your payments, it is important not to ignore these communications. When you are only slightly overdue, this is a good time to speak with your lender about your options, which may include refinancing or a loan modification.
Once your mortgage payment is 120 days overdue (about 4 months), your lender may legally begin the foreclosure process. The federal Consumer Financial Protection Bureau enacted this rule beginning on January 10, 2014 in order to give homeowners adequate time to discuss a loan modification or other plan to catch up their delinquent mortgage. Once this 120-day period ends, the foreclosure process may begin. In California, this process begins once your bank records in the public records and sends to you a three (3)-month notice of default.
Be advised, though, that there is no rule requiring that the bank begin the foreclosure process immediately after the 120-day period is over. Sometimes, mortgage lenders wait years before initiating a foreclosure. This practice occurred frequently during the peak of the foreclosure crisis, and many homeowners spent years living in their homes without making payments.
In California, most foreclosures are completed outside of the judicial process. This means that rather than suing you in court for foreclosure, the trustee named in the deed of trust document that you and the bank signed can automatically sell your home to satisfy the debt on your defaulted loan. In order to do this, however, the deed of trust that you signed must contain a power of sale clause authorizing the trustee to sell your property. Without such a provision, the bank must sue you for foreclosure in a court of law.
The state of California does require creditors like a mortgage lender to file a lawsuit pursuant to a written contract (mortgage) within four years from the date of default. This statute of limitations means that if a mortgage lender fails to file for foreclosure within the four-year deadline, it may not be able to institute foreclosure proceedings at all. As a result, some courts have held a bank has no recourse against a homeowner that missed four years of payments without facing a foreclosure proceeding or sale by the trustee if the mortgage contains a power of sale clause.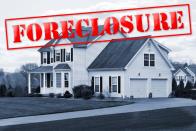 If you are facing foreclosure or have come upon hard times making the payment of your mortgage difficult or impossible, you need the help of an experienced debtor rights attorney—like those at Fitzgerald Campbell—to review your case and discuss your options with you. Our attorneys have decades of experience representing clients in all types of debtor defense cases and we are here to help you!
Call us today for a free consultation at (844) 431-3851, or email us at info@debtorprotectors.com.