The bills may be continuing to arrive in the mail at an alarming rate. The phone continues to ring away with unknown numbers appearing, belonging to debt collectors harassing you in every way imaginable as they try to get you to give them money you simply don't have. You may have lost your job or hours have been cut, and worst of all, you may be struggling with a health issue as well. The mountain of debt piling up may be out of your control—especially if you have been dealing with an illness of your own or within your family.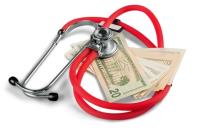 'Life is not fair' is something you may find yourself thinking quite often, and it's certainly true, proven more and more as we get older. When you or a loved one is stricken with an illness or when an accident occurs—especially of a catastrophic nature—the priority is getting medical treatment right away and worrying about the financial aspects later. While this may work temporarily, the charges from the doctor and hospital certainly will not go away. They are not going to forget about them, and you should not either, as easy as it might be to toss the mail or ignore the phone. You must deal with these issues eventually. The question is how.
Medical bills often cause such a crisis that those responsible find themselves considering a complete financial reorganization. At Fitzgerald & Campbell, APLC, we have counseled clients for decades regarding their financial options. Handling the bills after or while still in the throes of devastating illness or injury can seem insurmountable, but it's important to remember that you are certainly not alone in such a situation, and there are a variety of ways to begin rectifying the situation.
The first step is to take a realistic look at exactly how much you owe—and to whom. Then, in what is most time-consuming effort of all, but well worth it, make sure the bills you have are actually correct, verifying also what is and what is not covered by insurance. With a tally of how much you have coming in per income each month and how much needs to go out for paying bills, you can begin to build a comprehensive picture of your finances and then start creating a strategy. Medical issues, along with unemployment, are often the number one reason that individuals file for bankruptcy, whether that be a Chapter 7 or Chapter 13.
As you explore the bills you've been sent, it's important to realize how often errors are made not only from doctor's offices, but in the amounts that insurance companies have not paid. At Fitzgerald & Campbell, APLC, we can help you fight bills you do not owe. We can also help you explore your options in bankruptcy, as well as other alternatives. Our attorneys have decades of experience in serving clients with similar financial situations, as well as navigating bankruptcy and other debt management processes. Let us review your case and discuss what would work best for you. We are here to help!
Call us today for a free consultation at (844) 431-3851, or email us at info@debtorprotectors.com.