Unless you've lucked into an amazing new program, somehow, found a way to get your student loans discharged in bankruptcy, or have just thrown your hands in the air altogether and given up, you are most likely still paying on those loans. And you may be doing so for quite some time, unless you want to seek an alternative route or just quit paying and take a massive hit on your credit. There are ways to deal with student loan debt, but defaulting is certainly highly discouraged.
Paying these loans can be difficult for numerous reasons. You may have dropped out of school but still must pay off the loans, you may have graduated but didn't get the job you wanted, or you may have graduated, have the dream job, but the loans and the interest are still a heavy burden to bear amidst all your other expenses. The student loan may be the largest bill you pay monthly, however, aside from your mortgage. So why not do everything possible to whittle it down and reshape your finances into something more manageable? It will take some effort and might not exactly be fun, but the results should be well worth it:
Take a close look at your income and cut wherever you can. There are many bills today that can be done away with from the landline, to numerous cable add-ons (not to mention cable itself) to a host of extras you probably don't even think about in the form of monthly debits. This is a simple money management plan that you can institute to save money in any case, but if you add up all that you can cut, you will probably be surprised—and rather excited!
Consider any large and unnecessary items you can sell. What about a yard sale for the smaller- to medium-sized items? Cut down on the eating out. Rent out a room. The ideas will probably keep coming once you get started, and then you can really start making a dent in that loan.
Taking on an extra job. This may seem difficult to fit into your schedule at first, but if you can cut out just a bit of free time each week or on the weekends, you may be able to take on a part-time job and pay off more of the loan than you expected quite quickly.
Think about eliminating your other large bills. Are you in an area where you can do without a car for a while? Gas can perhaps be eliminated to some extent. What about living expenses? Selling your home may be a bit of a stretch, but you can possibly refinance, cut down on rent, live with family, or find a substantially less expensive arrangement. Just by doing that, you are bringing in income, essentially.
See if you can qualify for a repayment program for your student loan. Investigate the details further at Federal Student Aid, an Office of the U.S. Department of Education, that outlines how you may be able to enter an income driven repayment plan if your monthly payments are high in proportion to what you are earning. You may also qualify for deferment (delaying your payments and interest) or forbearance (stopping payments for possibly up to a year). Examining these options could reduce your payment substantially, or give you time to get back on your feet.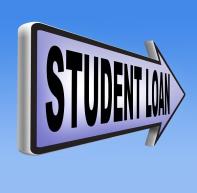 Are you struggling with student loan payments each month and trying to decide what to do? Contact us at Fitzgerald & Campbell, APLC so that we can review your case and discuss your options with you regarding student loans. Our attorneys have decades of experience representing clients in such matters and we are here to help you!
Call us today for a free consultation at (844) 431-3851, or email us at info@debtorprotectors.com.