The Fair Debt Collection Practices Act (FDCPA) is a federal law that protects consumers from unscrupulous and unfair debt collection practices. The law passed after Congress determined that consumers should be protected from abusive debt collection practices, and have a way to validate their debt.
If a creditor or debt collector violates the FDCPA by calling debtors outside of permitted hours, refusing to stop contacting a consumer, or by making threats or using abusive language, you have several options for protecting your rights.
First, the consumer can report the unlawful conduct to the appropriate government agency. Consumers can file a complaint with the Federal Trade Commission (FTC) which is in charge of all debt collection actions. Alternatively, you can report the creditor to the Consumer Financial Protection Bureau (CFPB). The CFPB will work directly with the creditor in an effort to resolve your dispute.
Additionally, you may file a separate complaint with various California agencies, like the state Attorney General. The Attorney General's office monitors creditors who consistently violate the FDCPA and other state laws when attempting to enforce your alleged debt. If the office receives numerous complaints against a particular debt collector, the state may file a lawsuit against that creditor or debt buyer to stop their harassing and/or abusive conduct.
Second, you also have the option of filing a lawsuit against the creditor or debt collector directly. You may file this lawsuit in the state superior court or in small claims court, depending on the amount of debt at issue. While small claims court moves faster and does not require the procedural formalities associated with most civil litigation, the amount of the case is limited by California law. This limit is $10,000. In contrast, suing in the appropriate superior court will allow you to deal with more complicated lawsuits for larger amounts of money. If successful, you could be awarded thousands of dollars in damages as well as money for attorney's fees and court costs.
Finally, you can use a creditor's violations of the FDCPA as leverage in negotiating a resolution of your alleged debt. Because violating the FDCPA is unlawful, many creditors and debt collectors who are in violation would rather resolve your debt than spend the time and money defending against your lawsuit.
Simply put – just because you may owe money to a creditor, you do not have to put with abusive or harassing debt collection tactics.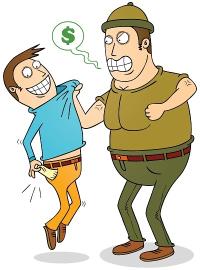 If you believe that a creditor is harassing you or in violation of FDCPA requirements, you need the help of an experienced debtor rights attorney—like those at Fitzgerald Campbell—to review your situation and discuss your options with you. Our attorneys have decades of experience representing clients in all types of debtor defense cases and we are here to help you!
Call us today for a free consultation at (844) 431-3851, or email us at info@debtorprotectors.com