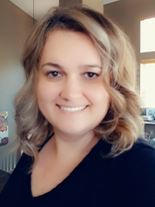 Ramona Garcia
Ramona has been with the firm since June 2019. She started in our firm as
one of our IT/Operations Assistants then became a Performance Improvement Specialist and is now part of our Marketing team as a Marketing Assistant. Her duties include extracting/sending daily marketing reports to the executive team, keeping up with the firm's social media accounts, keeping up with updating the firm's fee agreements, etc. Ramona is also responsible for creating, updating, and maintaining the process and procedure manuals for all departments in the firm. She is especially suited for this job because in a past professional capacity she edited an IT blog and because she also has a teaching background.
Some things you may not know about Ramona include the fact that she speaks four (yes…FOUR) languages including English, Spanish, German, and Romanian. Even though she was born and raised in the beautiful region of Transylvania, she is not a big fan of vampire movies. Ramona is a music lover and part time singer in her church choir. She also plays the violin. Ramona loves traveling and visiting new places, cooking, and spending time with her family and friends. Ramona also loves to sew and knit when time permits.
We're glad to have Ramona as part of our Fitzgerald & Campbell, APLC family and look forward to her being with us long term.