Very often when you hear stories about the student debt crisis in the US, young graduates are depicted, nary a worry wrinkle in sight yet. While certainly the amount of loans being taken out has grown, along with the debt now escalating into the trillions, if you are heading into middle age, you are likely well aware that student loan debt issues are not just for the young—and definitely not wished upon the faint of heart either.
Whether you can handle the stress of student loans, and whether you have the money to pay them back is often not a choice though. And while it may sound like the most innocuous type of debt one could have, leaving you wondering how aggressive servicers could get over collecting on student loans, trust some of the 40 million people in the US with debts—this can become a very serious and very stressful matter. It has far reaching consequences too as all ages are affected, now too strapped to buy the larger, more traditional purchases that are expected, such as comfortable cars and nice homes. That's not good for the economy.
Recent numbers show that 70 percent of graduates with B.A.'s still owe student loan debt. And nearly 40% are not paying on these loans regularly. While the focus has definitely been on the younger population struggling with debt, as well as the employment issue, there is still a significant number of older debtors not only in middle age, but entering retirement while carrying the burden of student loan debt. These debtors still account for around $204 billion that is owed in student loans.
"More than a quarter (27%) of federal student loan borrowers age 65-74 and more than half (54%) of federal student loan borrowers age 75 and older are in default," states the Edvisors Blog, reporting on student loan statistics.
So while the young have something to worry about in terms of debt, carrying that into retirement age when you may not have a chance to increase your income again is cause for significant concern.
"Student loans are not canceled when the borrower reaches retirement age. It is almost impossible to get student loans discharged in bankruptcy. The U.S. Department of Education can offset up to 15% of Social Security disability and retirement benefits, which can affect the financial security of retired Americans. An increasing number of senior citizens are losing part of their Social Security benefits to repay defaulted federal education loans each year," states the Edvisors Blog.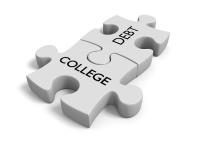 If you are of retirement age and still carrying around student loan burden, this isn't news to you, but it may be to many as the spotlight remains on those just graduating and worrying about their first careers. No matter what your age, if you are having trouble making your student loan debt payments or are headed into default, contact our experienced attorneys at Fitzgerald & Campbell, APLC. With decades of experience in counseling clients regarding student loan debt issues as well as other financial issues and options, we are here to help you!
 Call us today for a free consultation at (844) 431-3851, or email us at info@debtorprotectors.com.