The Consumer Financial Protection Bureau (CFPB) recently reported that car loans are the third-largest category of household debt for Americans, third only to mortgages and student loans. Today, the country owes approximately $ 1 trillion in auto loans.
While auto loan debt may be common, it is not commonly understood. Of over 2,000 complaints related to vehicle financing reviewed by the CFPB, the majority showed that consumers do not generally understand the agreement terms of their car loan. And once they do, they realize that they could, and maybe should have gotten a far better deal.
Needless to say, the effects of a bad car loan can be serious. Car loans are typically lengthy, at least for a period of a few years or more (2-5 years, on average). Recently, car dealers and vehicle lenders have begun extending these terms. In 2015, over 28% of new vehicle models were financed for a period of 73 months or more.
Nevertheless, only 50 % of those who applied for an auto loan looked elsewhere after obtaining their first quote. This is largely due to the fact that, as you have probably experienced, the loan process can be complicated and includes the consideration or negotiation of other issues like trade-in values, down payments and other items in addition to the loan itself. As a result, many shoppers take the first financing offer that they receive, and never realize that they could have received a lower interest rate or better loan terms had they shopped around.
After completing its review, the CFPB came up with three pieces of advice for would-be auto loan borrowers:
Compare financing options before going to the dealership. Look for loans with the lowest interest rates available, and be sure you can manage the monthly payment.
Check the total cost of the vehicle loan, not just the monthly payment. High-interest rates mean that the consumer could end up paying two or three times what the vehicle is worth after interest is factored in overtime.
Ask about hidden or additional costs that may affect your loan. You may need to pay for taxes, interest, and fees that will add to your overall cost.
Your credit score and your car depend upon an auto loan that fits your long-term budget. Lenders are known for repossessing vehicles as quickly as possible after that last, missed payment. If you can't find the cash for your monthly payments, you might find yourself without a car.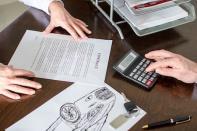 If you are having difficulties with paying your auto loan or other types of debt, or already sued by a collector, contact a qualified debtors' rights attorney, like those at Fitzgerald Campbell, right away. Our attorneys have decades of experience handling all types of consumer and debtor rights matters, and we are here to help you!
Call us today for a free consultation at (844) 431-3851, or email us at info@debtorprotectors.com.