Last month, the federal Court of Appeals for the 11th Circuit examined a case of alleged violations of the Fair Debt Collections Practices Act (FDCPA). The appellate court found that a plaintiff could not pursue a lawsuit, because the debt was not covered by the statute.
The case began with a car accident. In January of 2013, the plaintiff's sister borrowed his car and negligently caused a minor collision. The plaintiff reported the accident to his insurance company, which paid out a property damage claim to the other vehicle for about $300.
By November of 2015, the plaintiff began receiving letters and phone calls from a debt collection company called Seattle Service Bureau Inc., claiming that the company was collecting $50,000 owed to State Farm as a result of the accident. Despite telling the debt collection company that he did not owe the debt, and that there was no debt associated with the accident, the debt collector continued to pursue him for payment. Eventually, the plaintiff filed a lawsuit.
The district court dismissed the plaintiff's case, and found that a debt which did not arise out of a consensual consumer transaction is not covered by either statute. The appeals court agreed and affirmed that, regardless of whether the debt even exists, a car accident does not create the type of debt which triggers FDCPA protections.
The appeals court went on to explain that in order to state a claim under the FDCPA, the plaintiff must allege the existence of a consumer debt. Consumer debts are defined as debts that arise out of consensual transactions. In virtually all cases, a car accident is not a consensual transaction.
The court noted that Congress had the option to extend the FDCPA to cover every type of debt, but chose to limit the language. As a result, the court could not expand the definition in the statute to cover the alleged debt related to the accident without changes being made first by Congress.
Unfortunately for the plaintiff, the FDCPA was not able to provide relief from the abusive debt collection activities. For most individuals, however, debt collectors who fail to take no for an answer or refuse to stop contacting you will be liable for damages under the FDCPA.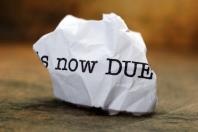 If you are having trouble paying your debts or have already been sued by a debt collector, you need the help of an experienced consumer rights attorney—like those at Fitzgerald & Campbell, APLC—to review your case and discuss your options with you. Our attorneys have decades of experience representing clients in all types of debt defense matters and we are here to help you!
Call us today for a free consultation at (844) 431-3851, or email us at info@debtorprotectors.com.