Have you ever had a creditor call you and you wonder how they got your telephone number? Most credit applications require you to provide a contact number that they use incessantly when you miss a payment. While you likely expect this from a credit card company or bank, it can happen with other types of creditors as well.

In Baird v. Sabre, Inc., et al., the plaintiff provided her cell phone number to an airline when she booking a flight on their website. She subsequently received text messages from the airline's vendor, offering flight notification services. In Murphy v. DCI Biologicals Orlando, LLC, et al., the plaintiff provided his cell phone number to a blood collection center on a donor information sheet. He started receiving text messages from the donation center.
Both plaintiffs asserted that the text messages violated the Telephone Consumer Protection Act (TCPA). The TCPA prohibits the use of auto-dialers or prerecorded non-emergency calls to a call phone unless the call is made with "the prior express consent of the called party." Both the Baird and Murphy courts ruled that the text messages did not violate the TCPA. A consumer who voluntarily provides his/her cell phone number in a transaction has given the required prior express consent.
So, before you provide your cell phone number on a credit application, website or in any type of transaction, remember that it means you may be giving your consent to be contacted on your cell phone by that party. If you believe you are rights under the TCPA are being violated, let us pursue damages. Violations of the TCPA can yield damages of $500 per violation, actual damages or a tripling of damages for willful violations.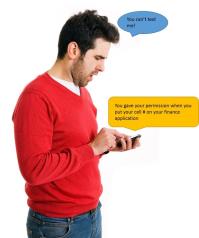 Fitzgerald Campbell handles debt collector harassment cases on a "contingency fee" basis, which means you pay us nothing unless we are successful! There is no charge to you for us to represent you. If we win, we will get paid. If we lose, we will not get paid. It is that simple. The law provides that if your case is successful, the creditor or collector will pay your reasonable attorney fees. Call us today toll free at (844) 431-3851 or contact us online to schedule a free initial consultation.