If you are 62 years or older, you are probably receiving offers for a reverse mortgage on your home. This is a special type of mortgage that permits a homeowner to obtain a loan against the equity that has accrued in their home. The loan must be paid in full when the borrower moves out of the home or dies.
Many reverse mortgage advertisements show many benefits of this type of loan, but they fail to outline the risks. In fact, some of the ads contain misleading statements and bury the important loan requirements in the fine print (if they are even mentioned at all). Many older homeowners incorrectly believe that reverse mortgages do not have risks and view them as a way to fill a financial gap during retirement. They are viewed as a way to travel and enjoy the "good life" during retirement.
Before You Commit to a Reverse Mortgage, Consider the Following:
Reverse mortgages are no government benefits. They are a loan against your home and they have fees and compounding interest that the borrower is obligated to repay.
If the reverse mortgage has federal insurance that guarantees you will receive your loan funds even if your lender has financial troubles or if the loan balance exceeds the value of your house, you are paying for the insurance – it is not a government benefit.
Although the reverse mortgage ads promise you can live in your home as long as you want, you can lose your home if you stop meeting the loan requirements. In other words, if you fail to pay your property taxes or allow your home insurance to lapse, your loan can be in default. A lender can foreclose on a defaulted reverse mortgage.
It is possible for you to outlive your loan money. A reverse mortgage does not guarantee your financial security regardless of how long you live. Thus, you must have a strategy that takes into account you having a long life.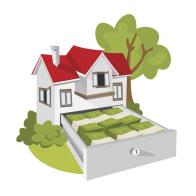 If you are looking for a way to deal with your debt, let us help. Contact our California Debtor Protection Law Firm with your questions, comments, and concerns, or for a free consultation. Speak to a CA credit card lawsuit and collection harassment lawyer at our firm today.