When you lose a loved one, the last thing you want to deal with is harassing debt collectors. However, if you have been appointed as the individual responsible for managing the deceased's financial affairs, this is exactly what you will be facing. Below are a few pieces of advice to consider:
A debt doesn't magically disappear when the borrower dies. While your loved one is no longer here to pay the debt, it is still a legal obligation that his or her estate must deal with. This means that you, as the administrator of the estate, must decide how to handle the debt.
A debt collector has the ability to contact other people to discuss your loved one's debt. This includes the deceased's spouse, parents, or guardian of the person that died. Of course, the collector may also contact anyone who has the authority to pay the deceased's debts from his or her estate.
Debt collectors must still follow the rules when trying to collect the debt of a deceased individual. In other words, a collector cannot lie or misrepresent anything about the debt they are attempting to collect. This includes stating or implying that you (or anyone else) is legally obligated to pay the debt out of your personal funds, unless you are a co-borrower or guarantor of the loan. They may attempt to persuade or pressure you into using your own money to pay the debt, but if they are making misrepresentations about your legal liability, it is time to seek help. Remember, if the deceased was the only party liable for the debt and there are no assets in the estate to pay the debt, it is not your obligation to pay the debt out of your personal money.
As a representative of the deceased's estate, you have rights. You may request validation of the debt, dispute the legitimacy of the debt, or demand in writing that the collector ceases all communications with you and the estate.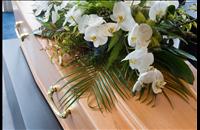 Take the first step to resolving your debt problems today by contacting us for a FREE initial consultation. The attorneys at Fitzgerald Campbell represent debtors all over the State of California in debt settlement, collections harassment and credit card lawsuits.  If you have a matter relating to a debt you owe, contact us today by calling (844) 431-3851 for a consultation.