As summer ends and your children prepare for school, you will be asked to fill-out a wide variety of forms. It is important to remember to safeguard your child's personal information. Below are a few tips to consider:
Protect your child's Social Security Number. Unless it is necessary, do not carry your child's SSN or Social Security card with you. If somebody asks you for it, be sure to find out why they need it and how they will safeguard it.
Online protection. It is imperative that parents talk to their children about not posting personal information online. This includes their name, address, birthday or other similar types of information. You should also verify that strong passwords are being used and that they are being kept private.
Shred important documents. Any records that contain your child's confidential information should be shredded (crosscut shredders are best) when the document is no longer needed. This is especially important for college students to do when they are receiving pre-approved credit offers and they live in a dorm with hundreds of other students.
School directories. The Federal Educational Rights and Privacy Act (FERPA) was passed in order to provide great protection of the privacy of student records. FERPA requires all educational institutions to provide notification to parents and guardians about their school directory policy. You have the right opt-out of the release of directory information to third parties.
GPS locations. While it is very handy to use GPS to locate where you child is, it is important to remember that other people can use this information too. Thus, you should discuss with your children how to limit their use of GPS services to ensure they are not providing their tracking information to the whole world.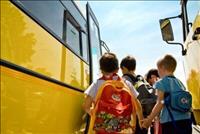 If somebody steals your child's information, contact us for assistance. The attorneys at Fitzgerald Campbell represent California consumers in all types of debt collections cases.  If you have been served with a collection lawsuit or you believe that you have been subject to an illegal debt collection tactic, we can help.  Contact us for a consultation by calling 855-709-5788 or emailing us at Info@debtorprotectors.com.