It is common for older citizens to have problems with debt collectors, especially if they have experienced serious health issues and have accumulated a lot of medical debt. The elderly can also be the target of many scams, so it is important to assist your loved ones in making sure the individuals claiming to be debt collectors are legitimate. Below are a few tips to consider:
If you don't recognize the debt, be sure to ask for more information. You have the right to request a validation of the debt. Many times the collector will have inaccurate or inadequate information, so it is important to find this out in the beginning of the process. Once you receive the company's name, address, telephone number and professional license number, you should be able to confirm whether the collector is a legitimate party or not.
If the debt does not belong to you or the amount being claimed as due is incorrect, dispute it. You should send a letter to the collector as soon as possible after you are first contacted by the collector (be sure to keep a copy and tracking information for your records). When you lodge a dispute, the debt collector must provide you with written verification of the debt before any further collection efforts can be taken.
One of the biggest complaints about debt collectors is that they refuse to take "no" for an answer. They use harassing, abusive, or offensive tactics to convince the senior citizen to pay the debt and make them go away. It is important to understand the rights afforded a consumer under the law when dealing with debt collectors. If a collector is violating your rights, contact us for help. We can not only make the harassment stop, but we may also be able to file a lawsuit for you to recover a monetary judgments from the collector.
If a debt collector files a lawsuit and obtains a judgment against a senior citizen, it is important to understand that many of your federal benefits are protected. In other words, your Social Security benefits, Veterans' benefits and Supplemental Security Income benefits are typically protected from being garnished.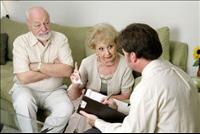 If you or a loved one is dealing with debt collection problems and you are ready to find a solution, call (844) 431-3851 today!
The attorneys at Fitzgerald Campbell represent California consumers in all types of debt collections cases.  If you have been served with a collection lawsuit or you believe that you have been subject to an illegal debt collection tactic, we can help.  Contact us for a consultation by calling 855-709-5788 or emailing us at Info@debtorprotectors.com.